Sri Lanka getaway - The decision making
4:27 AM
Slowpoke is a slowpoke.. For info, I spent 5 days at Sri Lanka for short vacation recently. When I told people about going to Sri Lanka, al...
Slowpoke is a slowpoke..
For info, I spent 5 days at Sri Lanka for short vacation recently. When I told people about going to Sri Lanka, almost everyone would ask me this similar question...
Since there's sooo much I want to tell about this trip, I think it'll be wise for me to divide it into few posts and I'll kick start with the most important part of the trip, The Decision Process.
It started when my husband came home one day and told me that he's planning on going for short trip in September and asked me to suggest the location. First thing that came into my mind was UMRAH! Without any hesitation, I told him I wanted to perform Umrah and he can't agree more. He called up the umrah agency to apply for visa. Due to work coverage issue, we can only leave on 21st Sept. Unfortunately, visa for umrah only available until 13th Sept to give way for Hajj season. They would resume back the application for umrah around January onwards, after the Hajj season ended. I can't denied my disappointment but I took it as it wasn't my time yet to meet my creator and Allah has better plan for me instead.
So we're left with few choices of destination that suites with our short length trip, destination that doesn't need us to travel for too long. Qatar, Dubai & Bahrain ! I've been to Qatar before and I must say, I prefer Q8 more. Dubai & Bahrain was no any different. I must stressed out here my sole purpose for this vacation was to relax, resting and resting only. Plus I want something different for my kids. I wouldn't want another shopping trip for them and I surely am not into another middle east experience, for now. I have at least another 2 years for that. If I wanted to go shopping, Q8 have more than ample mall already. If I wanted to shop at Dubai or Bahrain, this time around wasn't really strategic season to be doing that. Most middle east country will be having massive seasonal change sale by December-January.
I just want something different and memorable ! This is where Sri Lanka came to mind. Sri Lanka was first introduced to me by my cousin. She went to Sri Lanka twice for both business and holiday and even thinking of retiring there someday. Oh boy, I was sold.
I persuaded my husband and we started to do our own research. From my research, I found out that..
Firstly, Sri Lanka was the birth place to some well known world class brand
ceylon tea
as tea was their major export apart from coconut. Did infamous brand Dilmah rings any bell? Yep, Dilmah was origin from Sri Lanka. Now, me being a huge fan of tea, forever am, forever will.. this reason alone is more than enough for me...
:: Complimentary Dilmah Tea in my hotel pantry ::
Secondly, Sri Lanka own so many beaches and some of them are recognized as among the most beautiful beaches in the world. Maldives for once, are very famous well-known untouched paradise and yep, they're in Sri Lanka.
Thirdly..
GEM STONES
! This third reason favored my husband the most. He loves gem stone so much and Sri Lanka's stones was among the most sought after by stone lover due to it's high quality.
" Sri Lanka is known to produce more than 50 varieties of gem stones - second only to Brazil.
Gem mining is a seasonal activity in Sri Lanka and employs about 100,000 people - two-thirds of the island are believed to have the potential to contain gems"
Info credit to BBC News.
Remember Late-Princess-Diana's-stunning-blue-sapphire-engagement-ring-now-belong-to-Princess-Kate-Middleton ? It's 12" carat oval Ceylon blue sapphire and encircled by solitaire diamonds and rumor has it that the blue sapphire came from Kandy, Sri Lanka.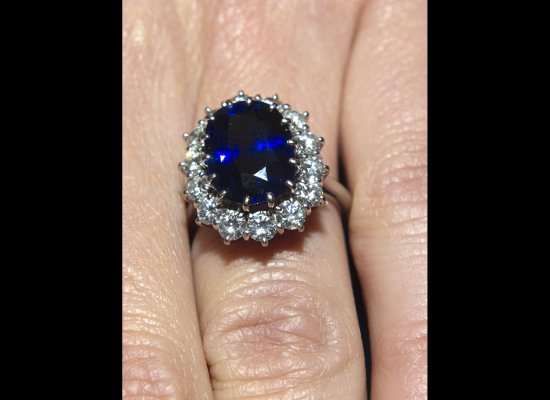 :: Pic credit to google ::
Fourthly,
COTTON & SILK
... Sri Lanka's organic cotton, silk, handloom fabrics and linen are known for it's finest and vibrant shocking colour. Most of them are hand-woven, hand-dyed and domestically manufactured. Oooooooohhhh saya suka ! Being a super anxious person, I have prepared myself by doing my own research on this specific topic and rest assured, I really like what I've seen (
online
) and from my research also I met
BAREFOOT
. It's definitely love at first sight.
:: Images credited to Barefoot Ceylon ::
Fifthly,
FINE BONE PORCELAIN
. Have you heard of Noritake or Dankotuwa Porcelain? I'm sure you've heard of at least Noritake. If you think Noritake fine bone was made in Japan, then you got it all wrong. They are produced in Sri Lanka and they have quite a number of Factory Outlet selling Noritake products with factory pricing, which is absolutely much much cheaper compared to market and boutique pricing. Owhhhh droolingggggg .... Most importantly, Noritake that made were made in Sri Lanka was halal as they're using cow and ox bone. I'm sure you've heard about this issue about Muslim using Noritake being debated before not long ago as they claimed that fine bone that was made in China was using ash from pig bone. Anyway, it's no harm to do your personal check before you purchase anything and please do not rely on one individual source aka ME :). I might be wrong.
:: Pic googled ::
Sixth,
SPICES, SPICY CURRY & CHEAP SEAFOOD
! And I mean dirt cheap seafood. All happened to be things that I like and enjoyed most. I love to eat, I love to travel and I love to eat during travel. I don't think I can enjoy my holiday if I had to diet during my vacation, like seriously. A friend of mine just came back recently from Europe tour and lost merely 7 kilos because they've been eating bread and fruits for two weeks of their vacation. They're non muslim so halal status wasn't really an issue here. The issue is everything was way too expensive hence they had to opted for cheaper option to survive. For me, if I go anywhere, I would want at least try their local food since it's the most efficient and fastest way to get to know local culture, through their food. I can't do that if one plate of rice would cost me my kidney.
Seventh,
WHALE!
When my cousin went to Sri Lanka last Christmas, she joined this whale watching trip. Returned home, she uploaded a video about the experience on FB. Ever since, I've been itching and pestering my husband about it. Based on my reading, whale and dolphin watching season was from December to April. This is the best time as they'll start their annual migration and make their way from the food-rich southern ocean to the breeding ground if the warm northern waters. Our trip was on September which is low season and even though I wasn't very sure whether we got to see any whale or not in this trip, it doesn't stop me from getting excited.
I believed I had gave you enough reasons already.
So, after all that being said, the only answer I'm able to give to Why Sri Lanka's question is Why Not Sri Lanka?